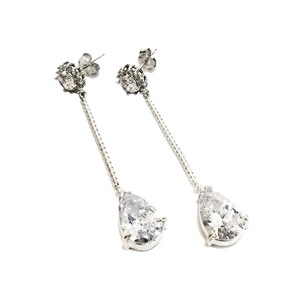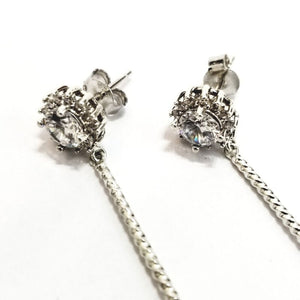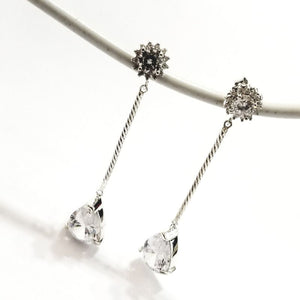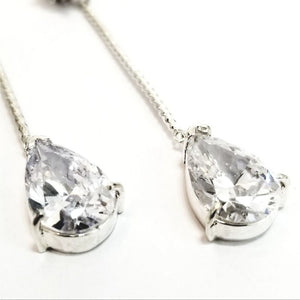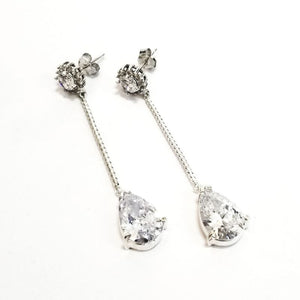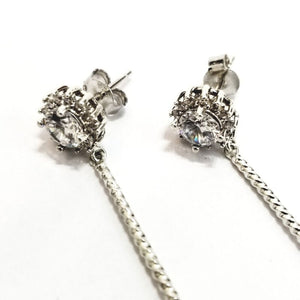 Zirconia and silver pendant earrings
Long earrings are accessories that go very well on their own – rarely requiring further accessorizing. These Zirconia and silver earrings do not require a necklace or other jewelry to stand out – less is more!
For maximal impact with these long zirconia earrings you should consider how you plan to wear your hair. With a ponytail, your face will look luminous. Now, if you choose to have your hair down, make sure your ears are not hidden. This way, your earrings will not get tangled in your hair and will always be visible.
If you have a round face, these long and narrow earrings will help to lengthen your face and hide a little roundness, providing a harmonious balance. Long earrings can be worn by women of all ages.
What kind of dress is this pair of earrings suitable for? With a simple black dress these earrings are simply eye-catching, perfect for giving new life to your wardrobe.
Zirconia is only slightly less brilliant than a diamond and is known for its high resistance. It is one of the most light-reflecting stones and is what gives this pair of earrings their distinguished appearance. Its similarity to the diamond makes the zirconia a more accessible but not less glamorous alternative!
Features:
Long zirconia and silver earrings. Made 100% by hand in Honduras.
Material: 925 Silver
Metal weight: 6.8 g
Size: Grande
Measurements: 60 mm
Stone: Zirconia AAAAAA
Measurements: 1 -19 mm
Polishing: Bright metal polish
Fastening: Pin and butterfly
Packaging: Gift box
Care: Do not expose your jewelry to the sun and sea water for long periods of time. Keep them in a jewelry box with a fabric-covered interior. Do not apply bleach, ammonia, alcohol, chlorine or abrasive liquids. Clean your jewelry only with mild products such as soap or detergent with a low percentage of phosphate. To remove light stains and oxidation of silver you can use bicarbonate, rubbing the surface with a soft cloth. Do not expose your pearl jewelry to oils, perfumes and other abrasive products. With frequent use, a thin layer of grey or white colour may become visible on the gold, this can be removed by using a simple eraser. If this dirt appears in places that are difficult to access, we recommend visiting an expert jeweler for cleaning. So that the crystals and zirconia do not suffer scratches, avoid keeping your jewelry next to others that also have stones, crystals, zirconia, etc.