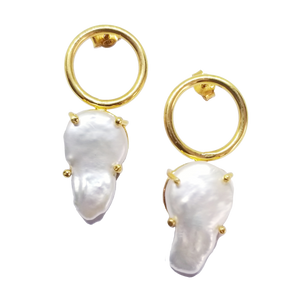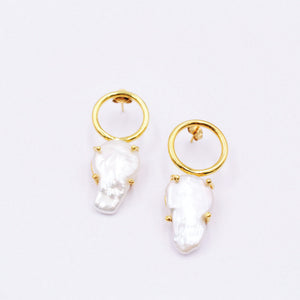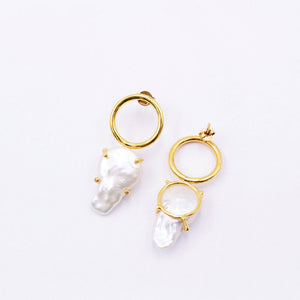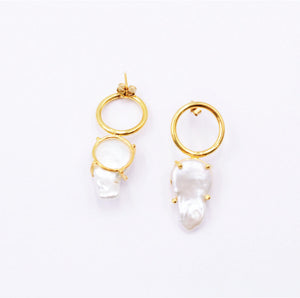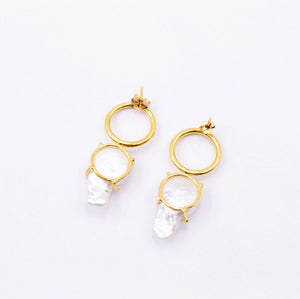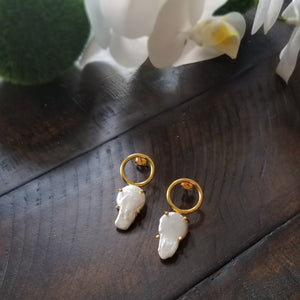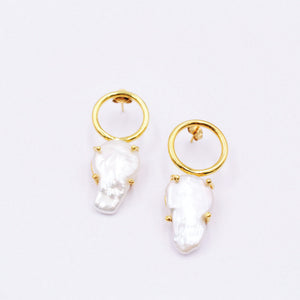 Baroque pearl and 18k gold flashing silver statement earrings
Perfect for your going out party selection statement earrings, these natural baroque pearl earrings are a minimalist design with an eternity peace modern look, perfect for the fashion women. Enhance your look with statement earrings involving silver and pearls.
These earrings by Encantos, 100% design and hand crafted by Honduran artisans, will fascinate you as much as natural baroque pearls have fascinated jewelers for centuries. These pearls are produced freely, without a defined shape, each one being a completely unique. These types of pearls always bring out the versatility of the piece and create unique and charming designs. They are in high demand by jewelers all over the world, and bring out the inspiration of design of its creators.
We have used 925 Sterling Silver with a flashing cover on 18k gold, recognized globally for its high quality and ant tarnish capabilities, the best existing option for fine and elegant jewelry. Our polishing process allows the piece to have a bright 18k gold feeling.
We have been making statement pieces for our demanding customers for over a decade, assuring the quality we represent in handcrafted jewelry, pieces made with love thinking in our beautiful customers.
Wear these statement earrings to enhance your everyday wardrobe and get that piece everyone will talk about.
Features:
Silver .925 and 18k Gold flashing, hand crafted and designed in Honduras. Perfect for enhancing your wardrobe.
Material: Plata 925 with 18k gold flashing
Metal weight: 4.8 g
Size: Medium
Measurements: 43 mm
Stones: Natural baroque pearl
Stone measurements: 24 mm
Polishing: Bright metal polish
Fastening: Pin and butterfly
Packaging: Gift box
Care: Do not expose your jewelry to the sun and sea water for long periods of time. Keep them in a jewelry box with a fabric-covered interior. Do not apply bleach, ammonia, alcohol, chlorine or abrasive liquids. Clean your jewelry only with mild products such as soap or detergent with a low percentage of phosphate. To remove light stains and oxidation of silver you can use bicarbonate, rubbing the surface with a soft cloth.