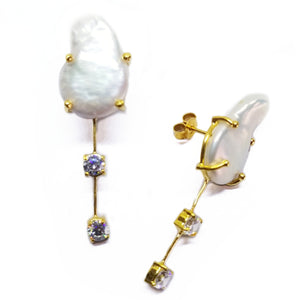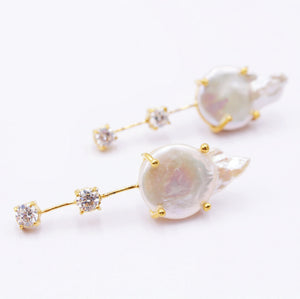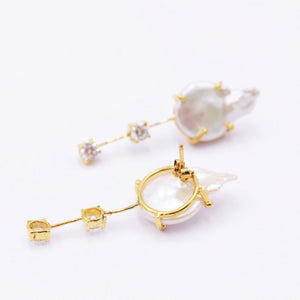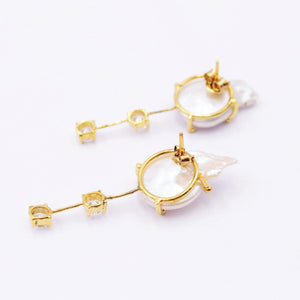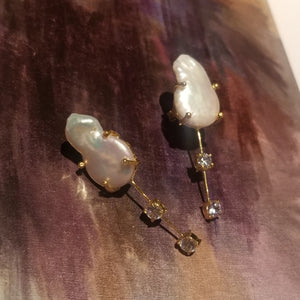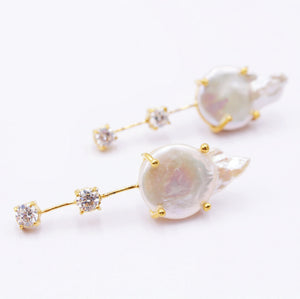 CZ and baroque natural pearl handmade earrings by Honduran Artisans
Our fresh water pearl collection earrings are ideal for women with an active social life. These natural baroque pearl and cz earrings are a perfect gift for those wonderful women in our lives. Give a great look to your new and old outfits and use these perfect designer earrings in your everyday live.
These fresh water pearl earrings by Encantos joyería are an essential piece in every women´s jewelry collection; made by local Honduran artisans and elaborated with sterling silver .925 flashed with 18k gold finish, natural baroque pearl and natural AAAAA CZ. Every baroque pearl is cultivated in fresh water oysters and hand pick for best quality assurance, (Every piece is special and unique) no two pearls are exactly the same. The combination of pearls and CZ is a typical elegant and modern look for earrings made by all types of professional jewelers but Encantos made these unique pieces look like nothing else in the market.
Our designer´s goal was to use high quality materials like 925 Sterling Silver with a flashing cover on 18k gold to allow the piece lifetime durability. This peace was inspired in the simplicity of geometric lines held together for a classic look.
Our 10 year experience in manufacturing handmade jewelry assures quality and versatility in every piece we make in our local shop, remember each piece is made with love and care for each of our customers.
Features:
Silver .925 and 18k Gold flashing, Natural baroque pearl and CZ AAAAA quality.
Material: Plata 925 with 18k gold flashing
Metal weight: 3.5 g
Size: Medium
Measurements: 51 mm
Stones: Natural baroque pearl
Stone measurements: pearl 24 mm; CZ 4mm 
Polishing: Bright metal polish
Fastening: Pin and butterfly
Packaging: Gift box
Care: Do not expose your jewelry to the sun and sea water for long periods of time. Keep them in a jewelry box with a fabric-covered interior. Do not apply bleach, ammonia, alcohol, chlorine or abrasive liquids. Clean your jewelry only with mild products such as soap or detergent with a low percentage of phosphate. To remove light stains and oxidation of silver you can use bicarbonate, rubbing the surface with a soft cloth.