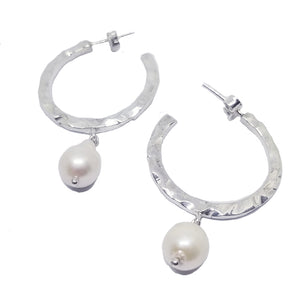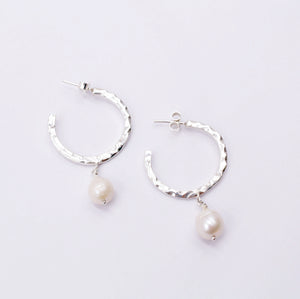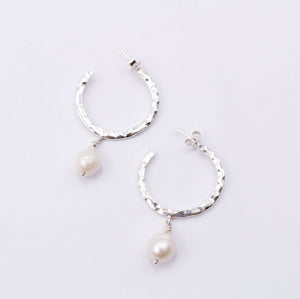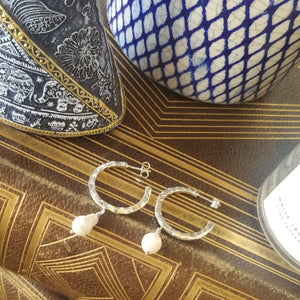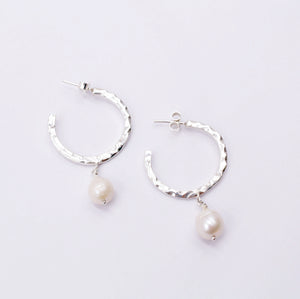 Hammered hand made sterling silver pearl hoop style earrings.
Our perfectly combined hoops in sterling silver and natural fresh water pearl are an expression of Honduran art craft simply made to be loved. These hand crafted piece was forged with hammer piece by piece, no two are the same. Designer artisan thought of every aspect of this piece, it involves geometric symmetry and dangling pearl perfectly combined to make a hoop everyone will talk about.
All the materials used in the piece are of exceptional quality it includes natural fresh water pearl handpicked by our artist to go with its´ hammered look made in sterling .925 silver. It´s a quality at is purest element of craftsmanship you will ever see.
This piece is striving with uniqueness since all the pieces are different in a similar way. The hammer used to make the piece is special since it not uniform; Its´ a 30 year hammer our jeweler had in his family for over 3 decades, you may consider these hoops a piece of art.
Wearing our jewelry will give you a new topic to talk about with your office friends or Christmas party, remember they are unique!
Features:
Silver .925 hammered with 30 year old tool.
Material: Sterling silver .925
Metal weight: 7.0 g
Size: Medium
Measurements: 45 mm
Stones: Natural fresh water pearl
Stone measurements: 11 mm  
Polishing: Hammered and bright metal polish
Fastening: Pin and butterfly
Packaging: Gift box
Care: Do not expose your jewelry to the sun and sea water for long periods of time. Keep them in a jewelry box with a fabric-covered interior. Do not apply bleach, ammonia, alcohol, chlorine or abrasive liquids. Clean your jewelry only with mild products such as soap or detergent with a low percentage of phosphate. To remove light stains and oxidation of silver you can use bicarbonate, rubbing the surface with a soft cloth.