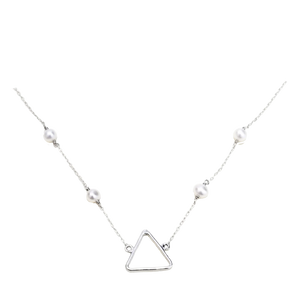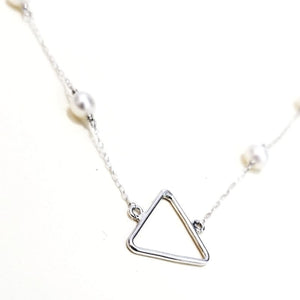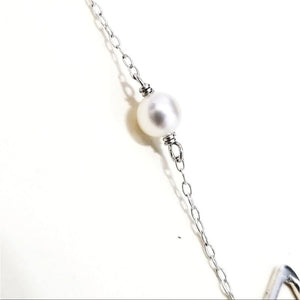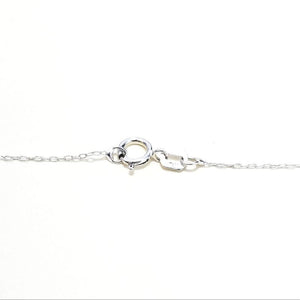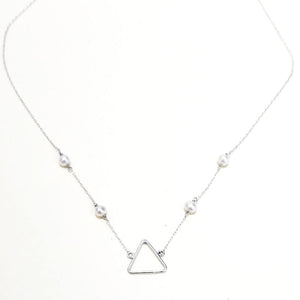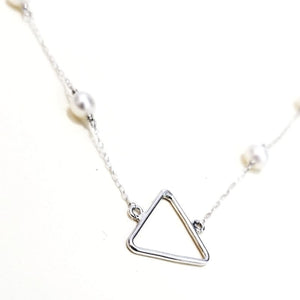 Silver triangle necklace with cultured pearls
Do you love geometric figures? Perhaps you are tired of the usual trends and prefer to create your looks according to your instincts and creative spirit! If so, this silver and pearl chain with a triangular pendant makes an ideal addition to your daily wardrobe.
Encantos Joyería designed this piece for the avant-garde woman who likes to try different styles. We were inspired by the geometric figures that symbolize the Zen philosophy - take with you the simplicity and harmony of embodied by the shape of the triangle. 100% hand made in Honduras by our expert artisans using 925 silver - considered first class for its high purity – this silver necklace exudes a brilliant polish that brings elegance to this delicate jewel.
Jewelry with geometric figures are perfect for the woman who seeks an orderly and harmonious life. But this does not mean that she is shy; she is usually guided by her creativity, her confidence and her taste for trying new styles. This is how artists Lady Gaga and Jennifer Lopez stand out on the red carpet. They are women with a high sense of individuality, who know exactly who they are and what they want.
Features:
Silver chain with pearls and triangular geometric figure.
Perfect for everyday use.
Handmade in Honduras.
Material: 925 Silver
Weight: 2.1 g
Size: Small
Measurements: 16" long
Stones: Natural pearl
Stone measures: 1.5 mm
Polishing: Bright polished metal
Fastening: Lobster clasp
Packaging: Gift box