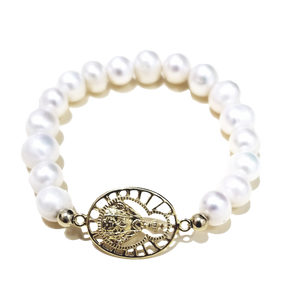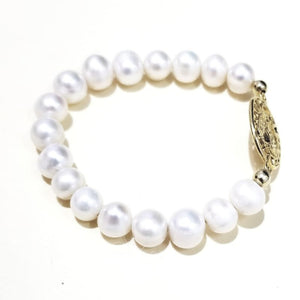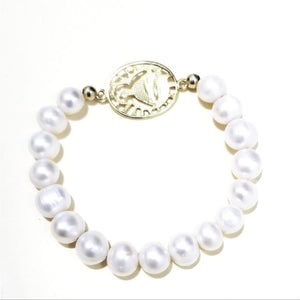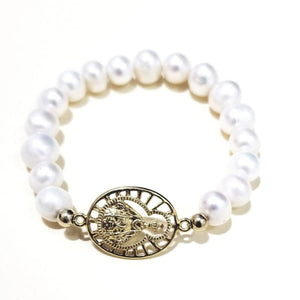 Virgin of Suyapa Bracelet with Pearls gift idea
The Virgin of Suyapa pearl bracelet is the ideal accessory for a daytime outfit. Delicate and elegant, pearls make a classic addition to any bracelet.
Choose this symbolic pearl bracelet as a present to yourself or a gift for a special person in your life. The pearl bracelet will accompany your daily activities as a faithful accessory that will never go out of style.
This piece is 100% handmade by Honduran master jewelers, with pearls and a silver detail with the image of the Virgin of Suyapa.
Pearls are timeless. They never go out of fashion and are easy to combine due to their white, neutral color. Because of their versatility, pearls enhance both a chic casual outfit - a pair of jeans with a shirt - and an elegant one. Ceremonies or family gatherings are also ideal occasions to wear this kind of jewelry.
Our Lady of Suyapa, or Virgen de Suyapa, is a mysterious apparition of the Catholic Virgin Mary found in the Suyapa Basilica in Tegucigalpa, Honduras. Commonly called La Morenita, the Virgin of Suyapa is a reason for pilgrimage every year from different parts of the country and Central America. She was declared Patroness of Honduras in 1925 by Pope Pius XI, under the title of Our Lady of Suyapa. Her day is celebrated every year on February 3rd.
Features:
Pearl bracelet 100% handmade in Honduras
Silver .925
Weight: 3,5 g
Size: Medium
Measurements: 7.5"
Natural river pearls
8mm pearls
Figure of the Virgin of Suyapa in silver
Metal polishing: bright
Fastening: elastic
Packaging: gift box
Choose this simple and elegant pearl bracelet, and pay a special homage to the Virgin of Suyapa.