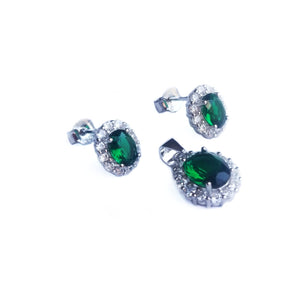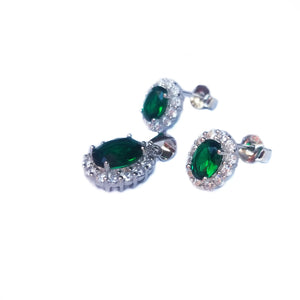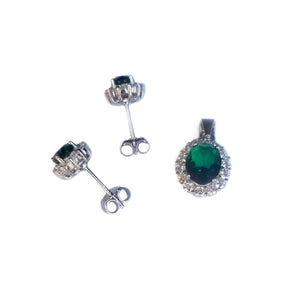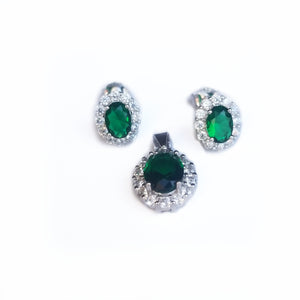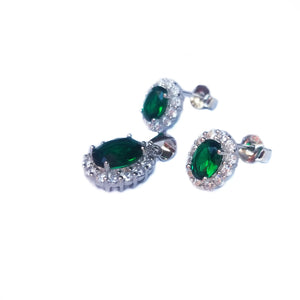 Emerald green CZ sterling silver set
Beautiful oval shaped sterling silver 18k white gold plated set with emerald color center CZ stone. This great set was designed for casual wear; it looks great with jeans, dresses or office ware. The emerald color in the center stones allows the piece to have a pretty brightness; it goes well with silver accessories as bracelets of rings.
This emerald colored CZ sterling silver set was manufactured with high quality standards using the best quality materials possible. The stones in the set are AAAAA high grade CZ´s; the center stones are perfect grade emerald colored and the side stones are white trying to have the diamond feeling we all love. The earrings are oval shape with clutch and silver post. The pendent is also oval shaped and has a system designed for a thin chain or a medium size chain available. 
This earrings and pendant set have an oval shape that Is optimal for everyday use, the set is modern looking and has an classic touch of green that might appeal to a lot of our clients.
All of our sets have met quality standard reviewed by our own local artisans, the 18k white gold plating assures reducing tarnishing in the silver set.
Features:
Oval emerald colored CZ sterling silver set plated in 18k white gold 
Material: Sterling silver .925 plated in 18k white gold
Metal weight: 4.1 g
Size: small
Measurements earrings: 11 mm
Measurements pendent: 13mm    
Stones: CZ in emerald color center stone and CZ diamond simulan side stones 
Stone measurements earrings: 7mm x 5mm
Stone measurements pendent: 9mm x 7mm
Polishing: bright metal polish
Packaging: Gift box
Care: Visit our care page.