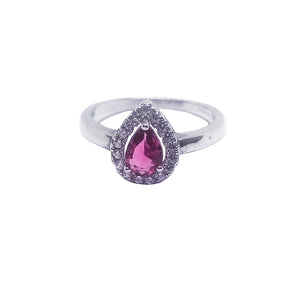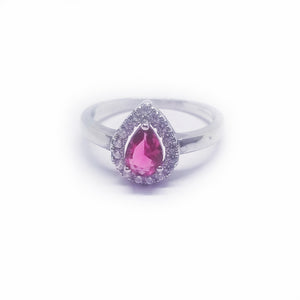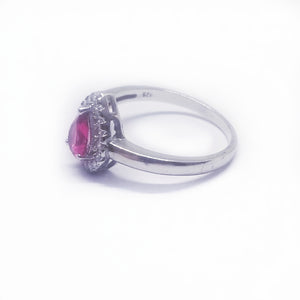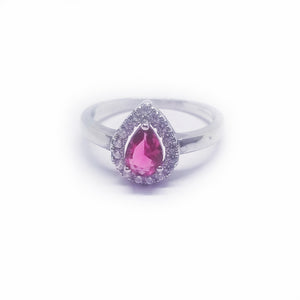 Casual sterling silver ring with ruby pink CZ
This gorgeous casual sterling silver ring is perfect for office and everyday use. Made and designed for our clients needing color in their lives, this special colored CZ ring is the perfect match for jeans or dress and even a casual date. Its´ color scheme blends with most clothing lines and offers a real broad range of combinations with your current wardrobe.  We have actually achieved this ring to have a chic look and also the perfect size for it to be noticed.
Designing of this ring was thought out starting with the center stone and the mix between the side stones and the look of the metal around the center stone. Manufactured in sterling silver with a 18k white gold plating; the center stone has a pink ruby color CZ and diamond simulant AAAAA translucent CZ.  The manufacturing process was made with casting and lost wax method to assure the mounting quality of the piece.
This urban designed piece is perfect to be matched with the complete set also made to shine and conquer everyday life. The sterling silver ring can match your office outfits, errand outfits and school outfits however you like.
Our pieces tend to be perfect for every client that uses our jewelry; they are chic, well manufactured and definitely gorgeous.  Our store classifies this piece a must in every closet.
Features:
Silver .925 ring plated in 18k white gold 
Material: Sterling silver .925 plated in 18k white gold
Metal weight: 2.6 g
Size: 5-9 finger size
Measurements:  13mm x 9mm on top of ring
Stones: CZ in ruby pink color center stone and CZ diamond simulant side stones 
Stone measurements:   7mm x 5mm center stone / 2mm side stones
Polishing: bright metal polish
Packaging: Gift box
Care: Visit our care page.