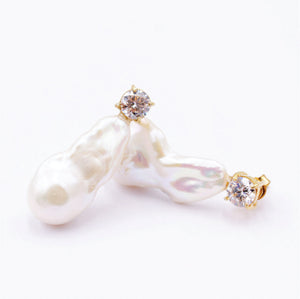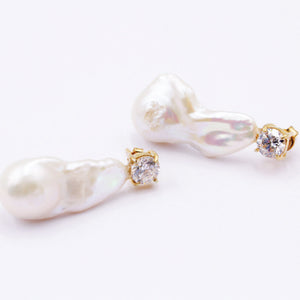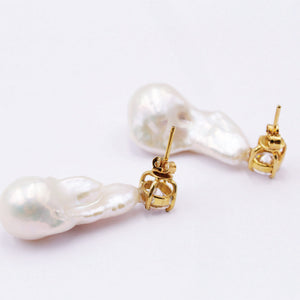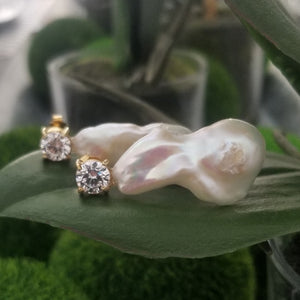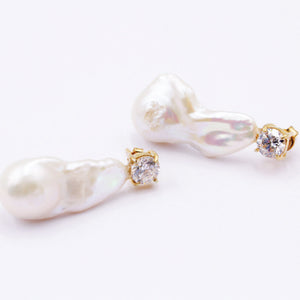 Earrings with baroque pearl and translucent CZ, silver 925 with 18k gold flashing.
Designer earrings, Handmade in sterling silver 9.25 with 18k gold flashing. Honduras has an ample range design type that allows anything from simple to elaborated pieces of all type of materials to be manufactured, these natural baroque pearls were selected because of their unique long shaped form that gives out a perfect look for that special night out that that special someone.
Designed with a translucent CZ and a unique pair of natural baroque pearl, our Honduran shop thought of our clients with need for specialized earrings; you can use them in all types of events: birthdays, baptisms, night events and also a simple date.
Long and simple; this Honduran creation made with sterling silver .925 with 18k gold flashing and natural baroque pearl chosen for its special form. It´s the perfect gift for that special one that likes to go out and have some fun.
Our national Honduran shop is dedicated in creating the more versatile pieces in the country and specialized in hand made products, each of our pieces are made with love just for a special client.
Features:
Silver .925 with gold flashing made with love by Honduran artisans  
Material: Sterling silver .925 with 18k gold flashing
Metal weight: 1.9 g
Size: Medium
Measurements: 38 mm
Stones: Natural baroque pearl / Cubic Circonia
Stone measurements: 30 mm / 4mm
Polishing: Bright metal polish
Fastening: Pin and butterfly
Packaging: Gift box
Care: Do not expose your jewelry to the sun and sea water for long periods of time. Keep them in a jewelry box with a fabric-covered interior. Do not apply bleach, ammonia, alcohol, chlorine or abrasive liquids. Clean your jewelry only with mild products such as soap or detergent with a low percentage of phosphate. To remove light stains and oxidation of silver you can use bicarbonate, rubbing the surface with a soft cloth.