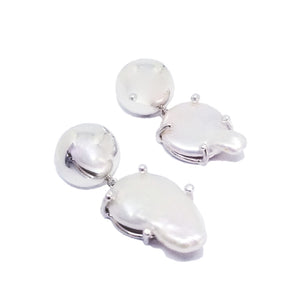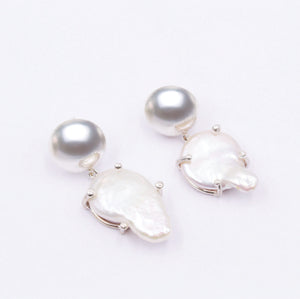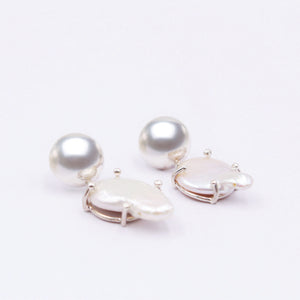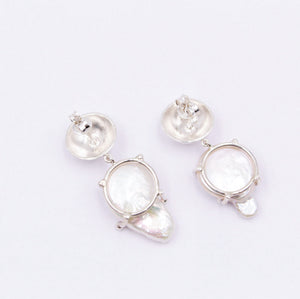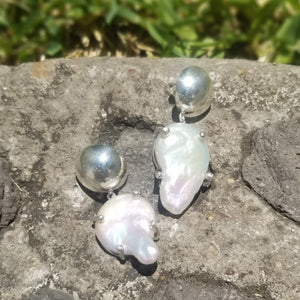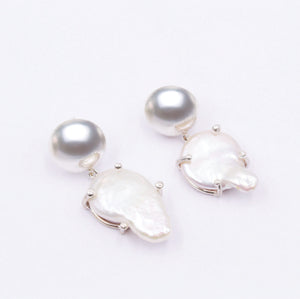 Plain sterling silver earrings with perfect picked natural baroque pearl.
Handmade sterling silver 925 earrings perfect for office atelier. These natural baroque pearls enhanced with perfect design handmade in our Honduran workshop are the ideal piece for your everyday office look; it is a natural young and fresh look that every coworker will ask about.
Made by our own Honduran artisans these earrings are a nice combination of clean look and a classic modern feeling. They are made with plain silver .925 designed thinking of the office everyday wardrobe; it is perfect to blend with mostly every color in the 2020 pallet and mixes with neutral color schemes available for elegant and professional looks.  In addition it was manufactures with a unique set of baroque pearls handpicked for their unique and out of the ordinary shape and luster that ever professional jeweler will search actively for.
Honduran artisans used high quality sterling silver .925 assuring it´s lifetime durability and clients' satisfaction for times to come. It´s modern and stylish look was inspired in professionals that have to look great for that special meeting.
Encantos Joyería has a great combination of experience and orientation for details that make us compatible to manufacturing the optimum design for our client to use. We will help you glow.
Features:
Silver .925 handmade artisan's collection piece.
Material: Plata .925
Metal weight: 4.3 g
Size: Medianos
Measurements: 39 mm
Stones: Natural baroque pearl
Stone measurements: 24 mm
Polishing: Bright metal polish
Fastening: Pin and butterfly
Packaging: Gift box
Care: Do not expose your jewelry to the sun and sea water for long periods of time. Keep them in a jewelry box with a fabric-covered interior. Do not apply bleach, ammonia, alcohol, chlorine or abrasive liquids. Clean your jewelry only with mild products such as soap or detergent with a low percentage of phosphate. To remove light stains and oxidation of silver you can use bicarbonate, rubbing the surface with a soft cloth.